The Space Program that History Erased
Before SpaceX and before Elon Musk were household names in private space exploration there was another little known, and ill-fated company - Icarus Space Travel.
In the mid-1960s a man with too much money and a dream decided to take on NASA, and exploit America's space fever; promising tickets to outer space. This is the forgotten story of that doomed space program.
A man with an impossible vision
Icarus was started by Aldus T. Vernon, a brash and eccentric, albeit charismatic, billionaire who made his money in Texas oil, and advertising. His first introduction to flight was in WWII as a pilot. He lost his right eye during a dogfight, and thereafter wore his signature eyepatch. Later his advertising firm had worked very briefly with TWA before being fired by the client. Aldus also made claims to have been a close friend of Howard Hughes. However the claims could never be verified, and Hughes himself seemed to not even know who Vernon was.
Icarus began in 1950 when Vernon purchased a small aerospace company and renamed it after the Greek Legend. He soon expanded to develop government contracts, and by 1957 was manufacturing parts for NASA. Icarus reached a critical mass during the American Space Race with Russia. In a seeming attempt to cash in on America's "space fever" the company began selling preorder tickets for trips to Mars. Despite the glaring fact that no one had yet made it to the moon.
"If the government plans to get to the moon by the end of the decade, then we can do it in half the time, and go twice as far. We plan to launch for Mars by 1965." - Aldus T. Vernon
going all in on a risky bet
In 1961, shortly after John F. Kennedy announced that the U.S would land a man on the moon by the end of the decade, Vernon made an announcement of his own "If the government plans to get to the moon by the end of the decade, then we can do it in half the time, and go twice as far. We plan to launch for Mars by 1965."
LUXURY SPACE TRAVEL FOR ALL
In true Vernon fashion, the Icarus experience was meant to be one of comfort and luxury. No expense was spared on the design of the ARGO-01, a truly amazing and lavish design which was ahead of its time. All 500 seats aboard the spacecraft were First Class.
Although the company was nowhere near ready to send anyone into space, Icarus and Vernon, claimed the incentive to buy these tickets was, of course, a once in a lifetime experience, but also to push the technology forward, to secure a seat before they sold out and those early adopters would be rewarded with cheaper prices. Incredibly Icarus had plans to launch passengers to every planet in the solar system within a decade. Whether the entire program was a complete hoax or Vernon actually believed he could launch passengers to Mars in such a short time span is a topic for debate. Icarus ticket sales to Mars were underwhelming and unsurprisingly Icarus went bankrupt shortly thereafter. A contributing factor to the demise of the extravagant company was a devastating explosion during a test flight that killed the entire crew. The lavish ARGO-01 shuttle was lost and so was America's confidence.
Conspiracy theories abound and claim that a secretive government program code-named "Chronos" was behind the Icarus collapse. Conspiracists claim that time-traveling Chronos agents created an alternate timeline from our own, effectively erasing Icarus from history, preserving NASA as the preeminent space program of the day. None of this has ever been substantiated.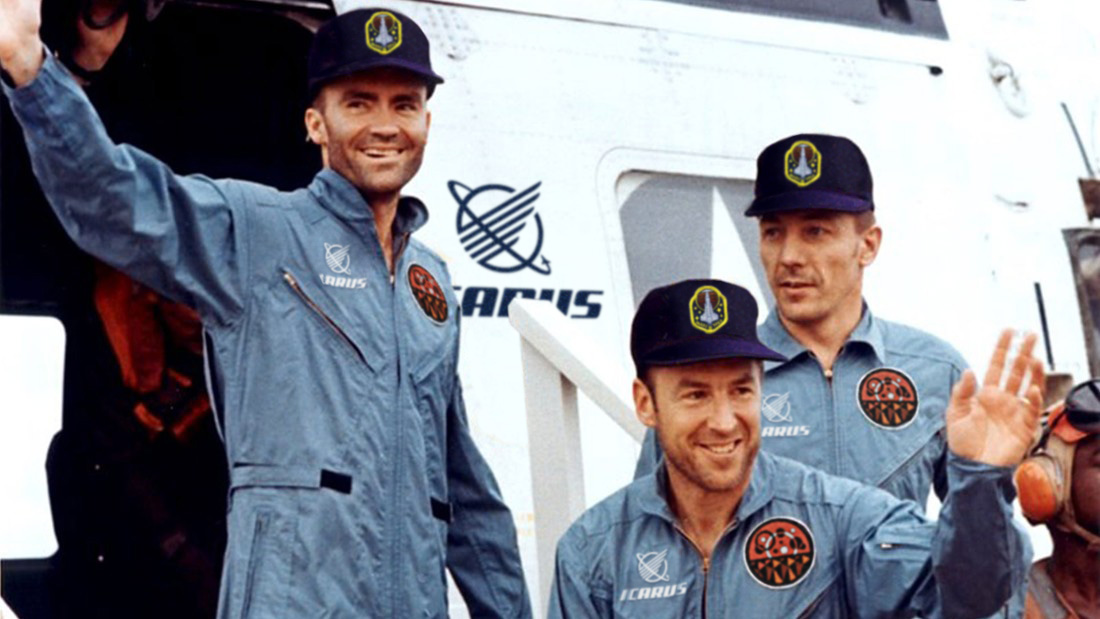 The relics of a forgotten space program
For decades Icarus has been all but forgotten, or perhaps purposely erased from history by a secret time-traveling government program. Until now, that is... Familytree is proud to present these nostalgic gift boxes.
Each set is housed in a beautifully designed box and includes:
First Class numbered letterpressed gold foil ticket to Mars. Customized with your name!
18" x 24" Mars Travel Poster advertisement
Wooden Model Rocket of ARGO-01
Wooden ticket display stand
Baseball cap with embroidered Mars Mission Patch
Mars Lapel pin/passenger access badge
To find out about more Icarus products fill out the form below.
By entering your email you agree to the following: To receive periodic promotional emails from Familytree. You may unsubscribe at any time. Your email may also be used to show you relevant offers on other channels such as Facebook, Instagram, Google, etc. Privacy Policy